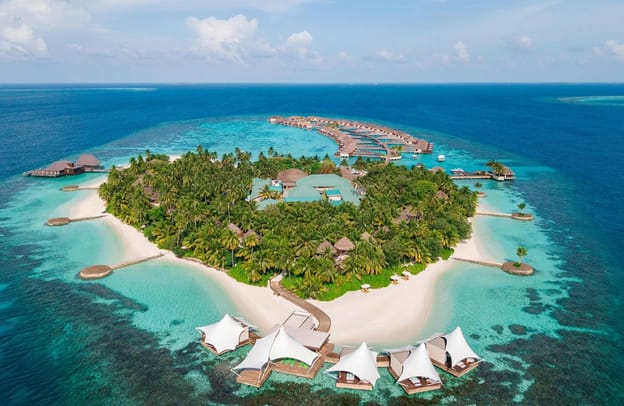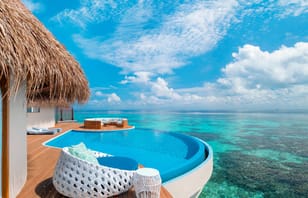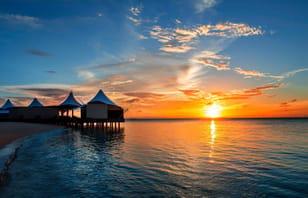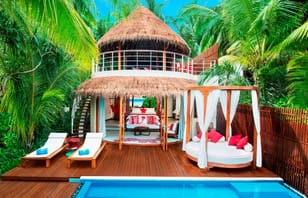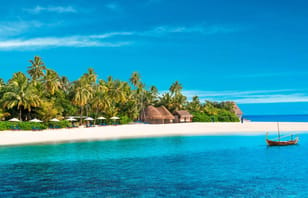 5/18
W Maldives
Overview
Escape to W Maldives, a luxury 5-star private island resort setting the stage to fuel guests' lust for life. Imagine waking up to the sound of the waves drumming against the infinity pool, a wonderland of white-sand beaches, turquoise lagoons and breathtaking reefs.
From the moment you step onto this heart shaped island playground, welcoming infinite days amplified by the only music curator in the Maldives, playful guestrooms and innovative cocktails and cuisine creating a cutting edge lifestyle experience.
Cast away yet connected. Natural yet designed. Secluded yet welcoming.Unwind at the pampering AWAY® Spa. Explore the world beneath the waves at DOWN UNDER and glide with reef sharks in the best house reef of the Maldives. W ignites an obsessive desire to soak it in, live it up and hit repeat. Whatever/Whenever ®.
W Maldives 'Let it Glow' theme is inspired by the glow in the dark jellyfish and luminous plankton that can be spotted in the shores of the private island resort.
Escape to the W Maldives for a Detox Retox and Repeat Experience. Energize yourself with sunrise yoga at the private island, boxing on the beach with the W fitness coach, followed by the HEAT WAVE Pool Party.