Experiences
+9607776038
Maldives Tours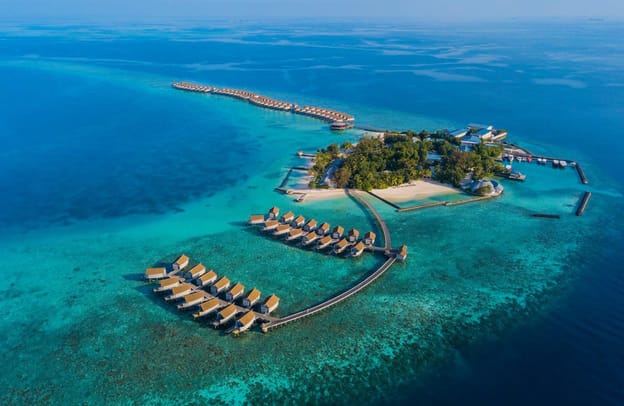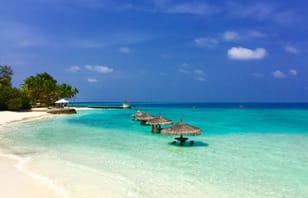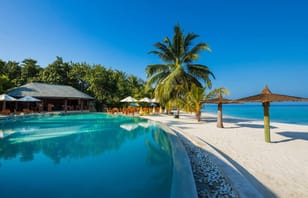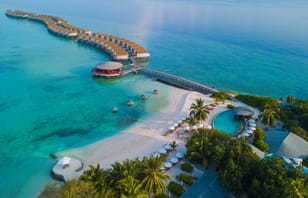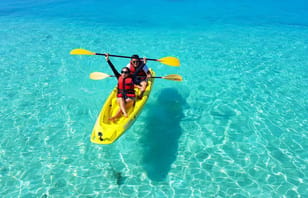 See All >
Day Tour to Centara Ras Fushi Resort & Spa
Tour Description
Centara Ras Fushi Resort & Spa is a beautiful tropical island few minutes away from capital city of the Maldives. This full day excursion with all inclusive plan, including drinks, swimming pool and some water sports would be a wonderful experience in the Maldives.
The resort is set on a pristine island blessed with tropical beauty, is an adults only retreat that is ideal for couples and honeymooners.
You are free to frolic on the pristine white beaches or the underwater playground of the sparkling blue lagoon. Centara Ras Fushi Resort & Spa is one of the most irresistible destinations for lovers of water sports and azure warm sea.
Presented with honeymooners in mind, couples need only sample the house reef or stroll around the secluded island to experience the enchantment Centara Ras Fushi bestows. With lunch included in the trip you can expect to enjoy the finest culinary delights surrounded by all the glory of nature.
This tour is ideal for passengers arriving from cruise ship, those staying in Male' city, Hulhumale, Crossroads and those want to join from airport to spend spare time between departure flight.
Children below 12 years not allowed to this island
Daily:
Departure: 11:00 AM
Return: 17:30 PM


Tour Special Schedules;
7 November 2023
Start at 09:30 and return at 16:00
08 April 2024
Start at 10:15 and return at 17:30
09 April 2024
Start at 09:00 and return at 16:00
Maldives Magnet
Maldives Postcards
Pick up from any location in Male', Hulhumale or Airport
Drop off to any location in Male', Hulhumale or Airport
Cruise ship passengers picked on arrival at the tender port
Lunch at Ocean buffet restaurant
Selected drinks included during the lunch
Beach towel provided to use
Use of swimming pool at the silent beach
Use of Sunbed at the silent beach upon availability
Free Wi-fi available throughout the resort
One hour Kayak or Pedal boat available to use (subject to availability)
Allowed to take pictures outside the water villas
Use of poolside shower at the resort
Beer, wine, spirits at the silent bar (unlimited)
Alcoholic drinks and cocktails at the silent bar (unlimited)
Non alcoholic drinks and cocktails at the silent bar (unlimited)
Free to roam around the beach
Free to roam in the island
Free to swim around the island
Free to snorkel around the island
Free to enjoy the exotic beauty of the island
Free gifts are those leave short feedback during or after the trip.
Free pick up and drop off available for the customers staying in hotels in Male', Hulhumale and joining from Airport.
Cruise ship passengers pick up and drop off direct at the tender port location (Pier).
Private tours, private pick up and drop off available at different price.
Face masks are now not compulsory in the Maldives, however its recommended to wear.
Transportation vehicles regularly sanitised.
Must wear T shirt or proper dress code during the lunch time at the restaurant.
For a full refund, cancel at least 24 hours in advance of the start date of the tour.
Overall Rating
5
Excellent

Everything was as described, all the activities were available, staff at Centara Ras Fushi was all smiles and helpful. Thank you Maldives Traveller!
Read more

Very interesting option to taste a little of resort life!
Read more

Very nice resort, with beautiful beache and swimming pool. The staffs are super friendly and caring. The bar has lots of free drinks for day visit guests. The buffet is very diverse and excellent. I would recommend this island. Très bel hôtel, avec des très belles plages et de superbes piscine. Le personnel est super accueillant et bienveillant. Le bar propose beaucoup de boissons gratuites pour les séjours d'une journée. Le buffet est très diversifié et excellent. Je recommande.
Read more

Had a wonderful time staying here. Best activity to do when you're in Male and waiting for your flight and had nothing else to do after excursions in Maldives.
Read more

The staff was very helpful the company representative was on time and helped us to enjoy the most of the island thank you maldives Traveller for this luxurious experience.
Read more

It was reasonably priced tour with a lot to do. Resort has good food variety and a lot of water related activities. Pools are clean and well maintained. We had no trouble with the transportation.
Read more

Very nice option to spend the day at the resort while staying in Male
Read more

One of the site employees sent a vehicle to our hotel and received us at the tour meeting point, took us to the required boat and picked us up at the end of the trip. The island was very wonderful and the buffet in the restaurant was huge and very tasty, and the beaches were beautiful despite the strange weather, it was raining every 5 minutes The wind blows strongly on the other side of the island's beach, but it was a wonderful and unforgettable experience. I strongly recommend the experience of the trip.
Read more