Maldives News Beat
Floating city to meet the challenge of rising sea levels
By Jonathan Kearney
February 26, 2022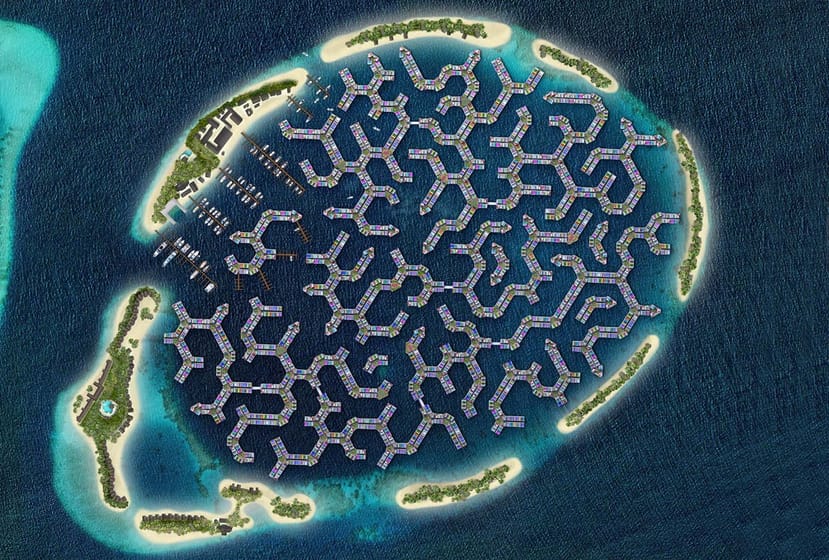 With the issue of rising sea levels a hot topic for the Maldives, plans are progressing for a unique and highly ambitious new infrastructure project.
The $1bn(US) Maldives Floating City project is moving forward, with construction scheduled to start this month.
The development will become the world's first floating city, with the country considered the perfect destination to introduce such an innovative project.
Initially developed as a concept in 2009, the Maldives Floating City will consist of around 5,000 new homes, two luxury resorts, a yacht marina and shopping malls.
Expected to take around five years to complete, the floating city will eventually include amenities such as hospitals, schools and leisure facilities.
All the residential properties will be waterfront-facing, each between 900 and 1,500 sq ft.
With rising sea levels considered a threat to the existence of this island nation, the design of the floating city is intended to mitigate these risks.
The floating city will be composed of hexagon-shaped segments reflective of the geometric patterns made by local coral.
The development will be enveloped and connected by a ring of barrier islands, acting as breakers below the water to reduce the impact of lagoon waves and to help stabilise the structures on the surface.
The project is being delivered by Dutch Dockland, who have experience of building thousands of floating homes in the Netherlands.
The floating city will be constructed in a 200-hectare warm water lagoon within a 10-minute boat ride from the capital Male and its international airport.
Those leading on the project say homes within the development will be made affordable.
Ahead of construction by this month, engineers have completed assessments of the soils and the conditions of the reef.
An environmental impact assessment has been conducted, with the project receiving the approval of the Environmental Protection Agency.
As a low-lying nation made up of 99% water, the Maldives is one of the countries most at risk of rising sea levels.
More than 80% of the country's land lies less than 1 meter above sea level.
Many believe the country will cease to exist in decades to come if more drastic action is not taken to tackle the effects of climate change around the globe.
Innovative projects such as the floating city are part of a continued emphasis on environmental sustainability as the country looks for solutions to help tackle the effects of climate change.
Rather than reclaiming land, the Government says the floating city will enable people to live on the water without disturbing the environment. New reefs will be grown to act as breakwaters for the development.
A network of bridges, canals and docks will provide access across the various segments and connect shops, homes and services across the lagoon in an environmentally sustainable way.
Renewable energy sources will provide power to the floating city, in keeping with the Government's goal to make the Maldives a net-zero emissions nation by 2030.
You may like