Travel to the Maldives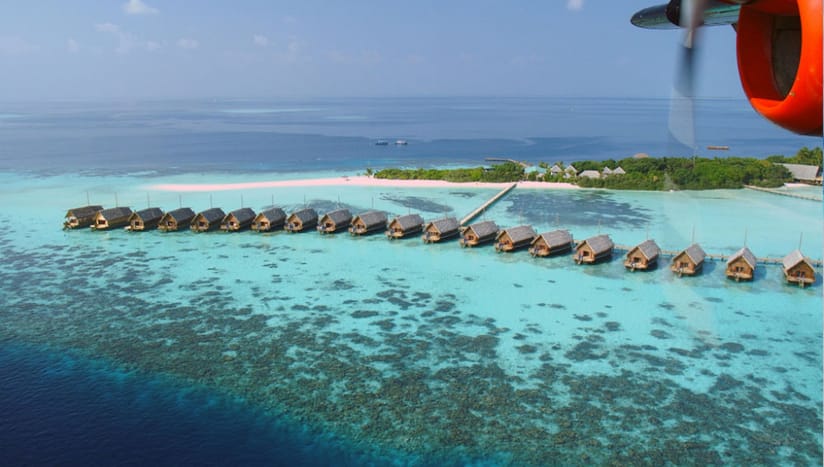 Most see the Maldives as a destination of dazzling tropical beauty that offers the perfect recipe for relaxation. The Maldives' holiday has changed and evolved since the first group of Italian tourists set foot in the country in 1972, a year in which we saw over a thousand tourists visiting the Maldives.
Some may find it surprising to learn that many holidaymakers experience the Maldives differently. Today Maldives offers a variety of tourist resorts that cater to the tastes and moods of different people.
The resorts vary from those that offer the true Robinson Crusoe experience in style to those that offer a more conventional atmosphere which may be comfortable for some; those that are quiet and perfect for relaxation and those that offer a variety of exciting activities.
One common thread that has and still runs through the Maldives' tourism product irrespective of the resort or time has been its orientation towards diving. Diving in the Maldives is as exciting for many as it was over three decades ago. New areas of the country are being opened offering fresh dive sites to explore.
Although most look to the Maldives as a destination for peace and quiet others see it as a place for fun filled. Physically demanding activity, such as wind-surfing, catamaran sailing, parasailing are offered in many of the resorts, while surfing is becoming a popular activity for many. Surfers can experience world-class virgin breaks throughout the archipelago.
Relaxation also has found new meaning in the spa resorts comparable only to the best in the world. The Maldives' spa resorts offer the perfect atmosphere that blends the age-old spa treatments with the tropical charm and closeness to elements that gives it the true holistic experience that spa treatments aspire to deliver.
For more adventurous souls there are nearly a hundred vessels of varying degrees of comfort and luxury. Be it for surfing, diving or simply relaxing, safaris offer a totally different holiday experience which many enjoy tremendously and come back repeatedly for more.
Access
Most tourists come to the Maldives on scheduled flights from Europe operated from all the major cities in the continent; London, Manchester, Milan, Rome, Frankfurt, Düsseldorf, Vienna, Paris and Moscow to name a few.
Check with your travel agent and you are bound to find a flight from a city near you. Emirates, Qatar Airways and Sri Lankan also offer convenient connections from Europe to Maldives.
From South East Asia, direct scheduled flights operate from Chennai, Mumbai, Hong Kong, Shanghai, Beijing and Singapore. There are several flights a week from Doha and Dubai as well, providing easy and flexible travel arrangements for those planning to visit the Maldives.
International Airports
Velana (Male') International Airport has been fully fledged international airport opened on 12 April 1966. The airport is on the island of Hulhule, a couple of kilometres from the capital Male'. The seaplane terminals are also on the east of the island.
Ferries boats operate at 15 minute intervals between Male' and the airport, and taxis and private hires operate 24 hours between Male' and Hulhumale from the Airport. Gan, Hanimaadhoo and Maafaru Airports are other International Airports operated in the Maldives.
Immigration and Customs
Immigration procedures at the airport are quite simple. Tourists are given a 30-day visa on arrival. For extensions you will be required to apply to the Department of Immigration and Emigration in Male'.
Regulations prohibit the import of pornographic materials, narcotic drugs and firearms. Please note that passengers are not allowed to import alcoholic beverages into the country.
Transfer to Resorts
If you have pre-booked your holiday on a resort or a safari vessel it is most likely that you would have booked your transfer as well. Transfers to resorts are by seaplane or by speedboat. The jetties on the west of the airport island provide access to the resort transfer vessels. If you are flying by seaplane buses at the terminal would take you to the seaplane terminals on the eastern side of the island.
Resort Holidays
There are 170 resorts in the country and 30 new resorts marked for development in totally virgin territory in atolls where no resorts exist today. Although some of the resorts outside Male' Atoll are accessible by boat the common mode of transport is by seaplane and domestic flights directly out of Velana (Male') International Airport.
Each of the 170 resorts is unique; however some of the special features that characterise resorts in the Maldives remain common to all. Each resort is on an island of its own, each a self contained entity, each an island of which the beaches the lagoon, the reef around it are all yours once you are checked in.
All resorts offer professional dive facilities and dive instructors; the dive school is a key feature on any of the resorts. While all resorts offer water sports, what is offered differ immensely depending on where you go.
Resorts vary in terms of the number of rooms as well, that may range from 40 to up to 450 on the largest resorts. Activities, entertainment programs, sports and other activities, style and concept, the level of comfort and ambience vary widely over the 170 resorts from which you can choose.
Spa Resorts
Maldivian resorts offer exceptional spa programs designed to soothe and pamper you. Spas are designed beautifully with private treatment rooms. Therapy programs can range from an hour long massage to a 7-day program of rejuvenation. Most spas offer a variety of treatments.
Anniversaries and Honeymoons
By virtue of its geography and its romantic setting the Maldivian resorts offer the ideal conditions for your honeymoon or for the special celebrations of your anniversary.
Your honeymoon can be at a secluded bungalow removed from the rest, with your own private beach and your own little corner of the island. Or you can book one of the select water bungalows that now exist in many of the resorts that give you the ultimate in luxury and privacy.
Some resorts offer honeymooners and anniversary couples traditional wedding ceremonies where the couple can experience an informal yet traditional tropical wedding or a wedding renewal in the most romantic surroundings in the world. After the traditional rites are complete some resorts offer a private sunset cruise to give you the most romantic ending for your special day.
Safari Holidays
Cruising, or safaris as they are commonly known in the Maldives is an exciting way to explore the Maldives. There are about ninety safari vessels registered in the country; varying in size and level of comfort.
A cruise may be as long as a week, ten days or two weeks. While most boats have between eight to twelve cabins all are well presented. The cabins in general come with double, twin or triple beds, attached bathrooms with hot and cold water, air-conditioning, ambient lighting and tasteful interior décor.
All vessels have bars and lounges, international telephone connections, and safety systems to include radars, echo sounders and coastal radio systems.
So what do you do on a cruise? Cruise itineraries vary but follow three main routes; South Male' Atoll, Vaavu Atoll and Meemu, is the southerly cruise, Ari Atoll is a popular cruise out to the west, and North Male' Atoll, Baa and Lhaviyani to the north. However more and more cruises have been venturing further to the north and south in the last few years.
While some cruises are designed to take you to the most exciting surf breaks, others are tailor-made to suit divers taking them to rarely dived reefs that dot the Maldives along its length and breadth.
On dive cruises, the main cruise vessels are accompanied by smaller dive boats that carry the compressor and other dive gear and take divers to dive points once the safari boat is firmly anchored for the day.
Wherever your safari takes you or whatever your activity is, what is most special about a safari is that it lets you see more of Maldives; all safari itineraries include stops at resorts, inhabited islands and uninhabited islands.
Cultural performances, barbecues on the beach, and visits to local villages and towns are part of any cruise.
Excursions
Resorts in the Maldives offer a variety of excursions with names that may be mystifying to those new to the Maldives. While all resorts offer a wide ranging program of excursions they differ from resort to resort. However some of the excursions are common to all.
Surfing
The Maldives is fast becoming an important surf destination. The O'Neil Deep Blue international surf competition has now become a regular annual event participated by the best known names in the surfing world.
While most of the recognised surf breaks are in Male' Atoll, several known breaks are dotted in the central atolls. Although breaks in Male' Atoll can be surfed from a resort the breaks further out can only be accessed on a surfing safari. The good news is there is still more to be discovered.
The southwest monsoon from May to October brings windy and blustery weather, but provides the best conditions for surfing.