Maldives Travel Tips
Maldives Tackles Climate Change with Clean-up of Toxic Trash Island
By Jonathan Kearney
October 14, 2021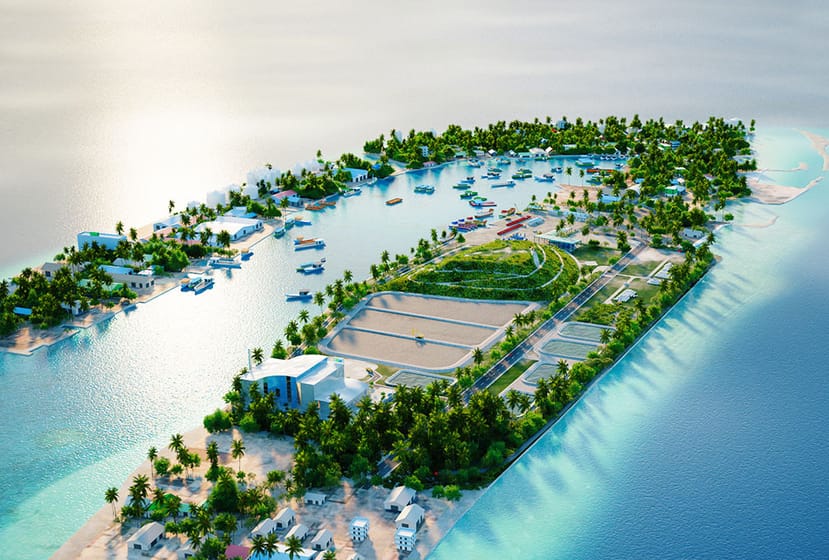 The Maldives is undoubtedly one of the most stunning nations on earth. However, there is a mark on its pristine natural beauty – Thilafushi, the garbage island created in the 1990s to deal with the country's increasing waste.
Tourism has boomed in the past few decades, but the Maldives has lacked a coherent strategy to deal with the massive amount of waste generated by resorts and the growing capital city of Male.
Waste has been dumped on Thilafushi for nearly 30 years, leaving garbage piled eight storeys high and towers of toxic smoke.
The first phase of a radical clean-up project is almost complete, putting a modern waste collection, transfer, and disposal system in the Greater Male capital region and its inhabited outer islands.
Maldives Sustainable Waste Management
The project will manage garbage in 32 local islands and 75 resort islands in the region. Under this first phase, community-based outer island waste management systems will be strengthened. This includes the creation of waste collection centres for each of the 32 local islands, most of which are now complete.
Garbage will now be transported to Thilafushi in special vessels from purpose-built waste transfer centres.
As well as infrastructure upgrades, an important element of the project is raising public awareness and encouraging 3R (reduce, reuse, recycle) behaviours.
Thilafushi – From Blue Lagoon to Trash Island
Thilafushi, just 7.3km from Male city, was originally a 7km long lagoon. In an effort to solve Male's waste problems in the early 1990s, Maldives Government decided to reclaim it as a landfill.
A daily average of 330 tonnes of garbage is shipped to the island from the Male region, and the island swells by one square metre every 24 hours. According to official statistics, a single tourist visiting the Maldives produces 3.5kg of garbage per day – two times higher than the average for locals.
With inadequate collection and disposal systems in place, Thilafushi has become a public health and environmental hazard.
Waste is dumped and burned without being processed or separated, meaning hazardous materials mixed with municipal solid wastes and waste burned in the open air.
Toxic contamination has seeped into the freshwater layer of the island, plastic waste has spilt into the ocean, and air pollution and greenhouse gas emissions are a huge problem.
Phase Two – Waste-to-Energy
The clean-up project was started in 2018 with US $210 million, funded by Maldives Government, Asian Development Bank (ADB), Japan Fund for Poverty Reduction (JFPR) and Technical Assistance Special Fund.
Phase two, due for completion in 2024, will see a waste-to-energy treatment plant built on Thilafushi and major dumpsite rehabilitation and remediation works. The facility is intended to handle 500 tons of waste per day.
The waste-to-energy plant will be disaster-and climate-resilient, with features such as raised floor elevations and flood-proof mechanical and electrical equipment.
Improvement can already be seen on the island. The toxic smoke has cleared, and piles of garbage are starting to shrink. A huge planting programme will see Thilafushi transformed into green lands, a far cry from its beginning.
A sustainable solid waste management system will bring huge relief to Male, one of the most densely populated cities on earth. The project will solve garbage problems for four Atolls in the Male region; Male Atoll, North and South Ari Atoll and Vaavu Atoll.
Tackling Climate Change in Maldives
As a low-lying nation, where 80% of islands sit only one metre above sea level, Maldives is at great risk from rising seas due to climate change and natural disasters like tsunamis and extreme climate events.
Other measures are already underway in the country to tackle climate change. The Maldives Government has committed to phasing out single-use plastics by 2023, and many resorts are adopting low-carbon practices and encouraging sustainable tourism.
Major sea defences have been built around some islands to combat flooding, and concrete blocks put in place to fight shoreline erosion.
Maldives' contribution to global GHG emissions is only 0.003%; however, because the nation is one of the most vulnerable to climate change, it is leading the way with ambitious plans to reduce emissions by 26% by 2030 while striving to achieve net zero by 2030 with the right international support.
Preserving this beautiful island nation for future generations will take years of dedicated action, but the major overhaul of its waste systems is a huge leap toward those goals.
You may like